Danni (V1)
❥First released on June 30th, 2018
❥Price: $500
❥Status: Discontinued (Last Preorder April 3rd, 2021)
Height: 40cm
Wig size: 6 – 7 inches
Eyes: 16 – 18 mm
Neck: 6.5 cm
Bust: 14.5 cm
Waist: 12.5cm
Hips: 24.5cm
Feet: 5.5cm
Recommend Clothing:
↠ YOSD tops
↠ Blythe T-shirts (Only if it has stretch to it)
↠(Some) YOSD Skirts
↠Minifee skirts
↠MSD Skirts and Bottoms (Only if it has stretch to it)
↠MSD Shoes (If they aren't too narrow)
↠MSD Socks
↠SD Knee high socks (to be thigh highs)
Current Seamstresses that make clothing for Danni (Subject to availability):
– SMP Doll
– AmyJuneDesigns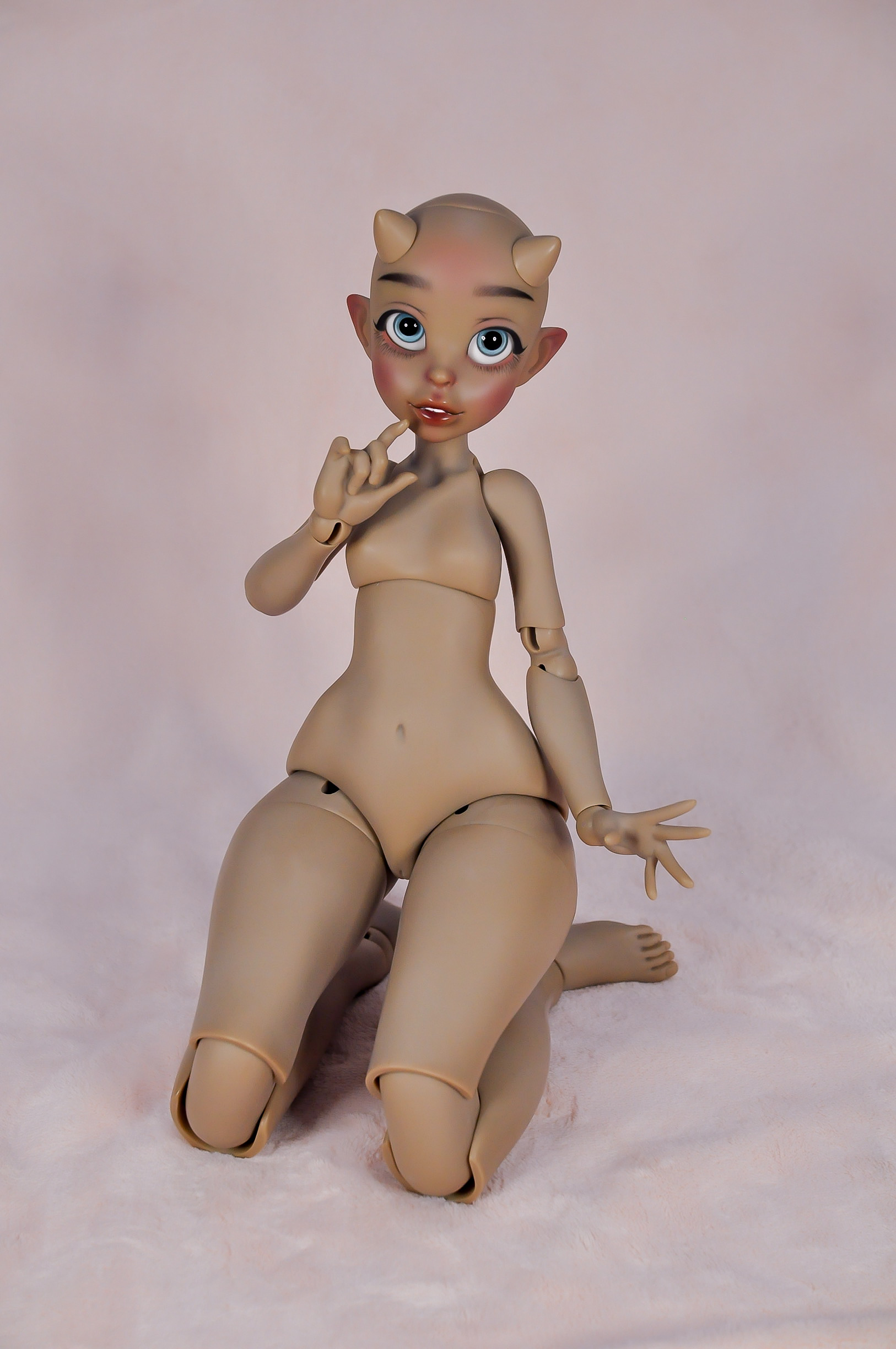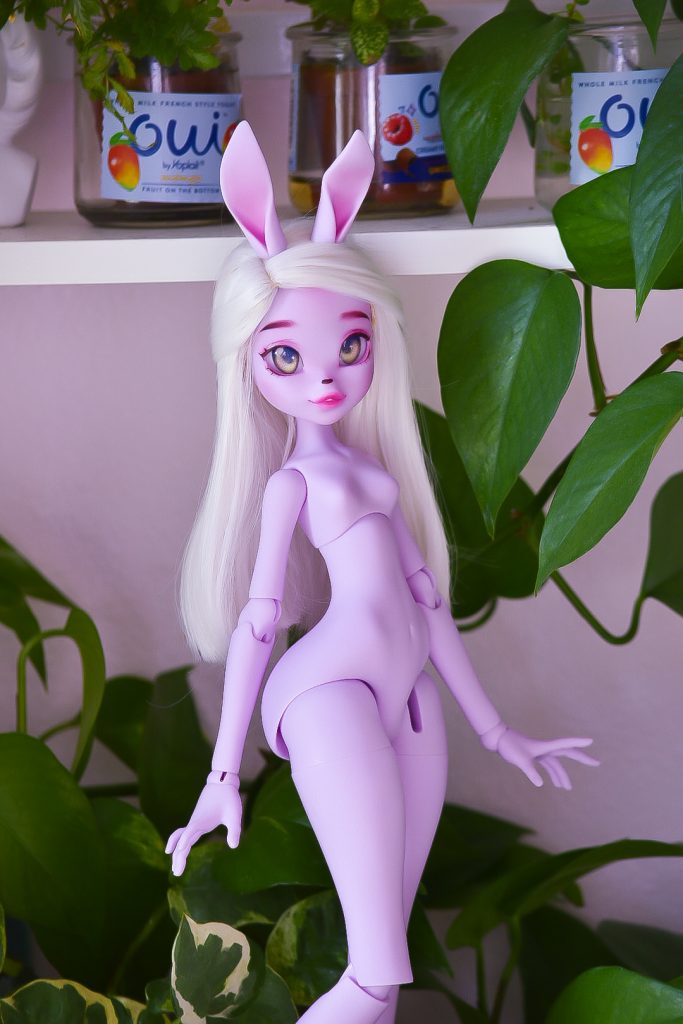 Anie
❥First released on September 21st, 2019
❥Price: $650
❥Status: Current
Wig size: 6-7in/7-8in
Eyes: 18 – 20mm
Height: 41cm
Neck: 5cm
Arm length: 10.5cm
Bust: 13cm
Waist: 9.75cm
Hips: 22.5cm
Leg length: 22.75cm
Feet length: 5cm
Recommend Clothing:
↠ YOSD tops
↠ Blythe T-shirts
↠YOSD Skirts
↠Minifee skirts
↠MSD Skirts and Bottoms (Only if it has stretch to it)
↠MSD Shoes
↠MSD Socks
Current Seamstresses that make clothing for Anie and Mae (Subject to availability):
– Kaederp
– SMP Doll
– MeicoHouse
– LovelyWoods
– AmyJuneDesigns
Mae
❥First released on September 21st, 2019
❥Price: $650
❥Status: Current
Wig size: 6-7in/7-8in
Eyes: 18 – 20mm
Height: 41cm
Neck: 5cm
Arm length: 10.5cm
Bust: 13cm
Waist: 9.75cm
Hips: 22.5cm
Leg length: 22.75cm
Feet length: 5cm
Recommend Clothing:
↠ YOSD tops
↠ Blythe T-shirts
↠YOSD Skirts
↠Minifee skirts
↠MSD Skirts and Bottoms (Only if it has stretch to it)
↠MSD Shoes
↠MSD Socks
Current Seamstresses that make clothing for Anie and Mae (Subject to availability):
– Kaederp
– SMP Doll
– MeicoHouse
– LovelyWoods
– AmyJuneDesigns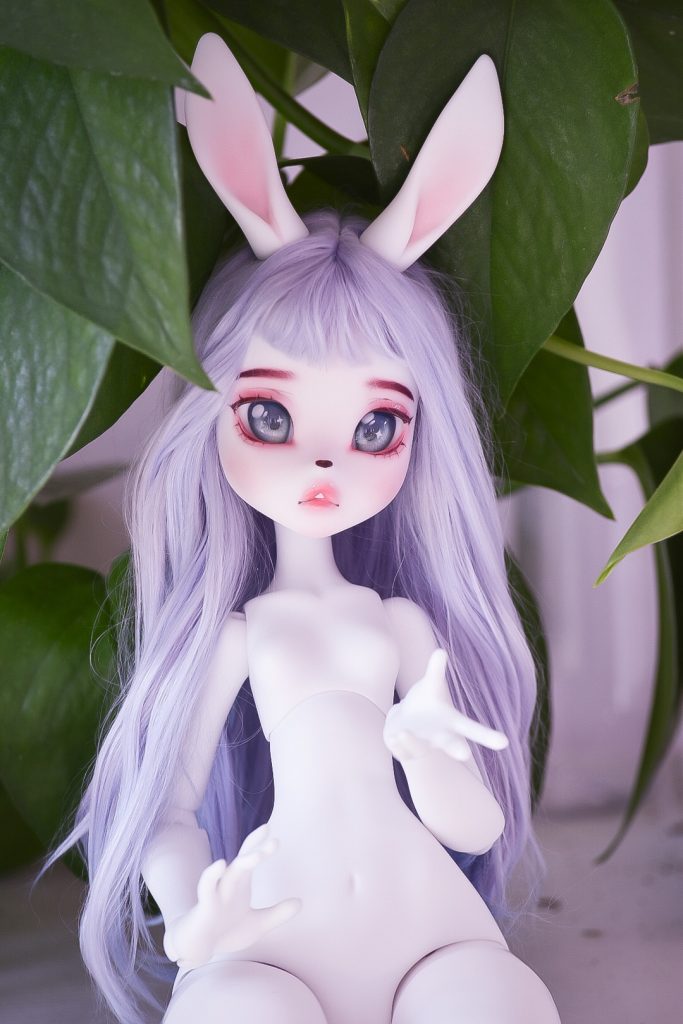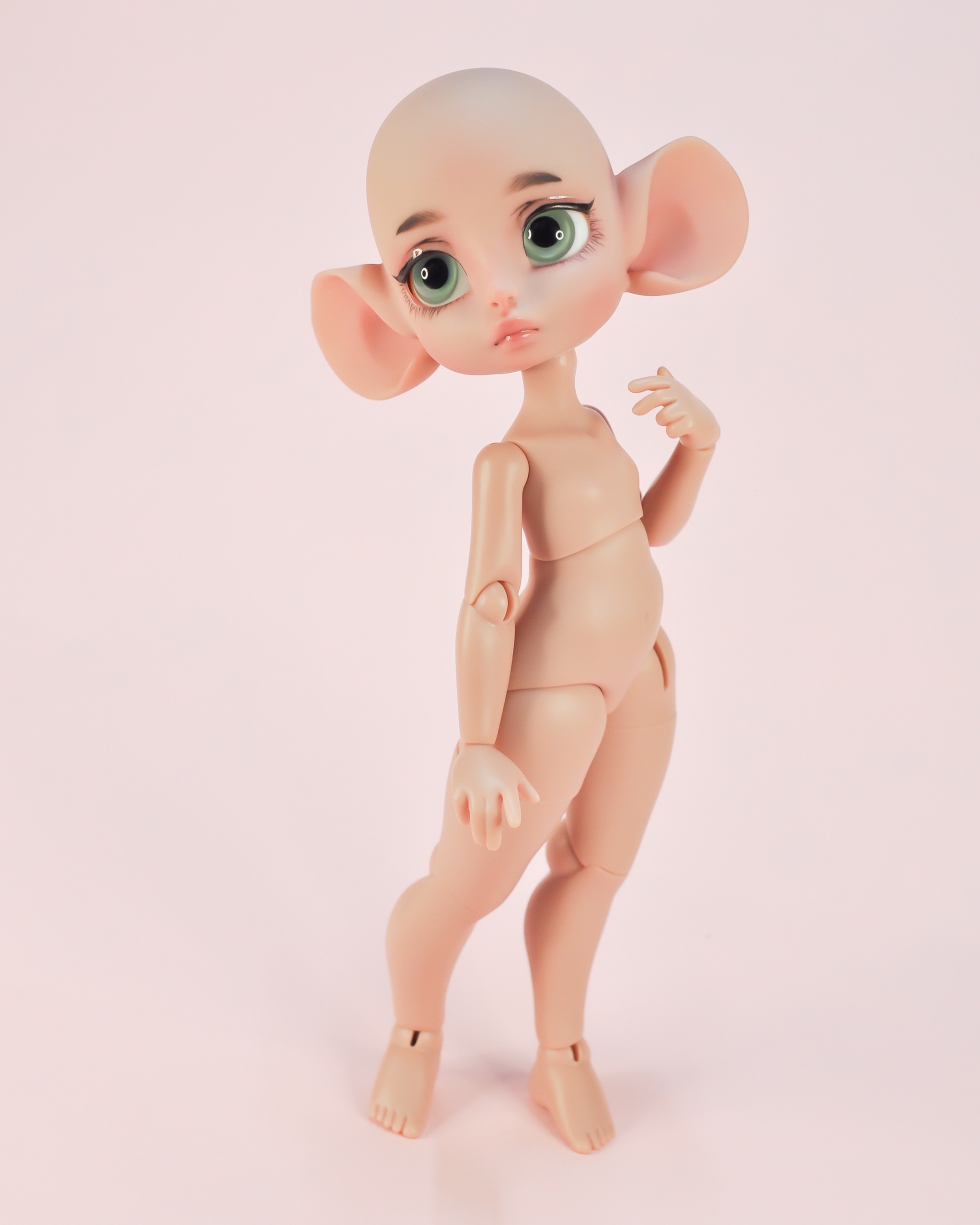 Poppy
❥First released on April 11th, 2020
❥Price: $360 (for 10.5in Poppy)
❥Status: Current
8in Poppy
Height: 8in
Wig size: 5-6in
Bust: 7cm / 2.75in
Arm length: 6.5cm
Waist: 6.75cm / 2.65in
Hips: 12.5cm / 4.92
Leg length: 9.75cm
Foot size: 2.5cm
Recommend Clothing:
↠ Azone Pure Neemo XS dresses and tops (S – L will be baggy)
↠ Azone Pure Neemo XS – L socks
↠ Blythe socks
↠ Monster High tops
——————————————————
10.5in Poppy
Height: 10.5
Wig size: 7-8in
Bust: 9cm 
Arm length: 6.5cm
Waist: 8.5cm 
Hips: 16cm 
Leg length: 10.75cm
Foot size: 3cm
Recommend Clothing:
↠ Azone Pure Neemo M dresses and tops (L might will be baggy, S might be close fitting)
↠ Azone Pure Neemo S – L socks
↠ Blythe tops, dresses, and socks
Danni V2
❥Released on November 25th 2022
❥Price: $750
❥Status: Current
Height: 41cm
Wig size: 6 – 7in
Eyes: 16 – 18mm
Neck: 6.5cm
Torso (shoulder to crotch): 12.5cm
Shoulders: 18cm
Bust: 15.5cm
Arm length (wrist to shoulder): 10.5cm
Upper Arm circumference: 5cm
Waist: 13.5cm
Hips: 24.5cm
Thigh circumference : 15cm
Leg length (hip to ankle): 21.5
Feet: 5.5cm
Recommend Clothing:
↠ YOSD tops
↠MSD Skirts and Bottoms (Only if it has stretch to it)
↠MSD Shoes
↠MSD Socks
↠SD Knee high socks (to be thigh highs)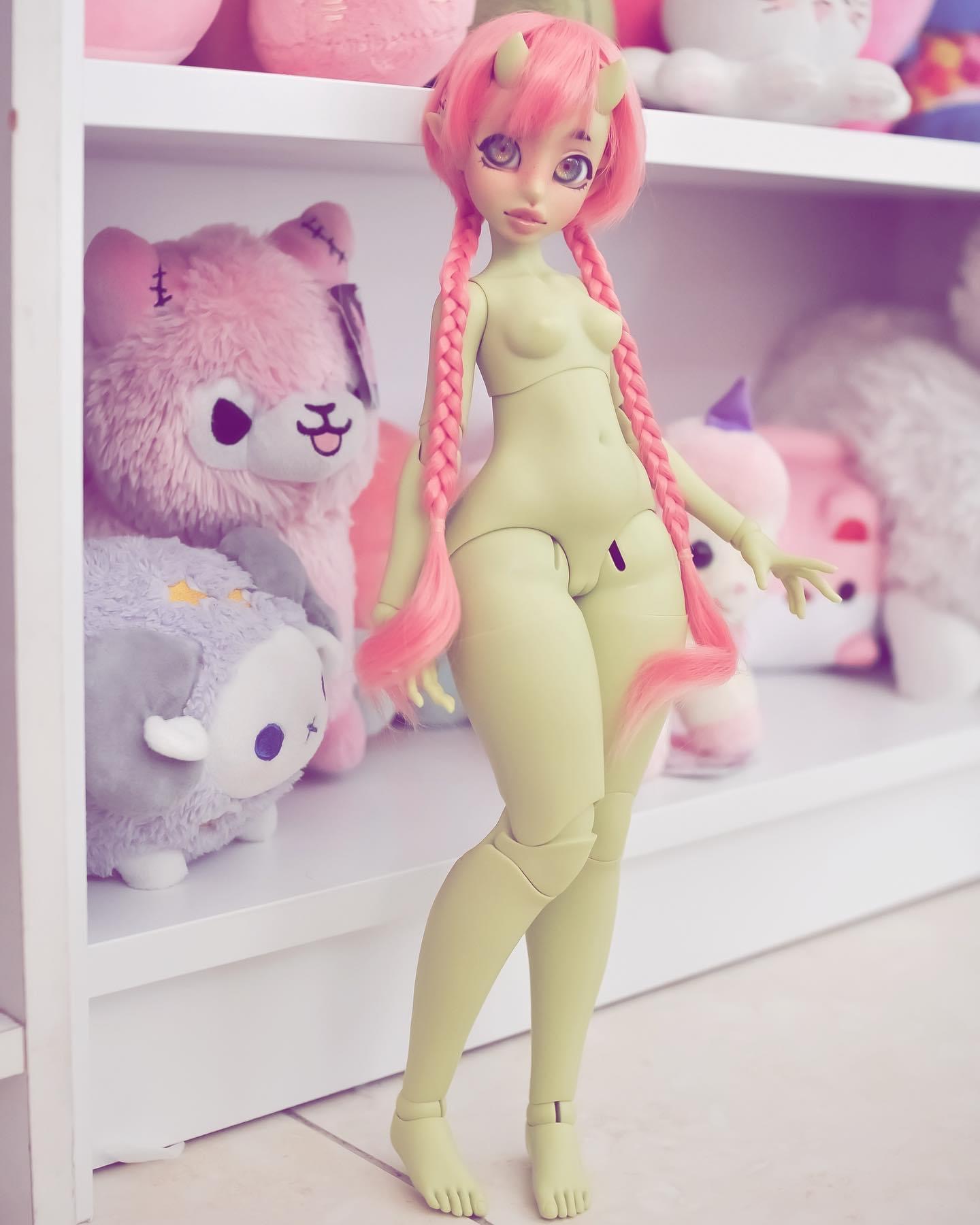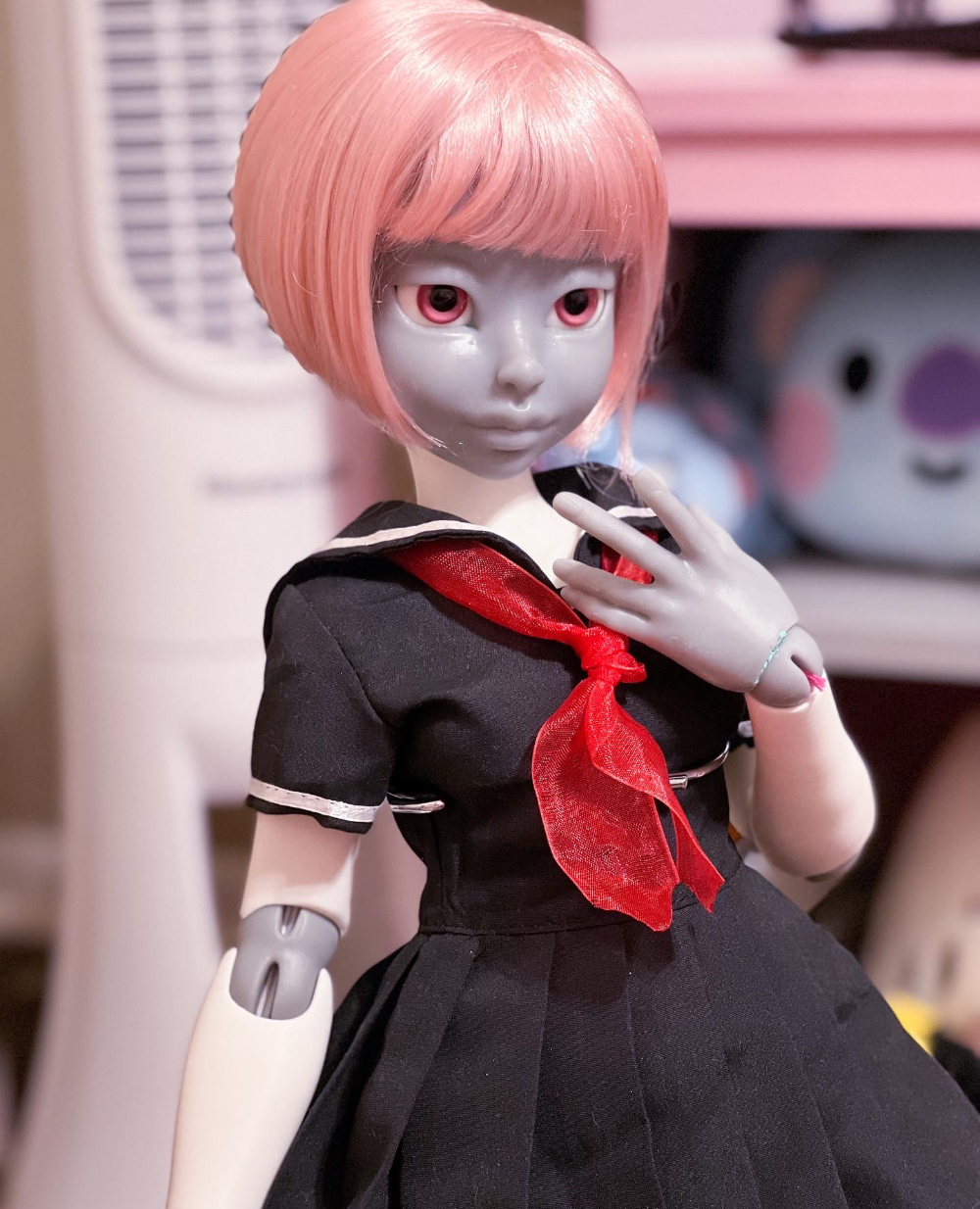 Cheri
❥A special Collaboration doll with Moshi Melon of their Baby Girl character "Cheri"
❥To be released soon….
❥Price: TBA
❥Status: Coming Soon….
Measurements TBA….
Recommend Clothing:
↠ TBA….
Lacey
❥First released on July 22nd, 2023
❥Price: $650
❥Status: Current
Wig size: 6-7in/7-8in
Eyes: 18 – 20mm
Height: 41cm
Neck: 5cm
Arm length: 10.5cm
Bust: 13cm
Waist: 9.75cm
Hips: 22.5cm
Leg length: 22.75cm
Feet length: 5cm
Recommend Clothing:
↠ YOSD tops
↠ Blythe T-shirts
↠YOSD Skirts
↠Minifee skirts
↠MSD Skirts and Bottoms (Only if it has stretch to it)
↠MSD Shoes
↠MSD Socks
Current Seamstresses that make clothing for Anie and Mae (Subject to availability):
– Kaederp
– SMP Doll
– MeicoHouse
– LovelyWoods
– AmyJuneDesigns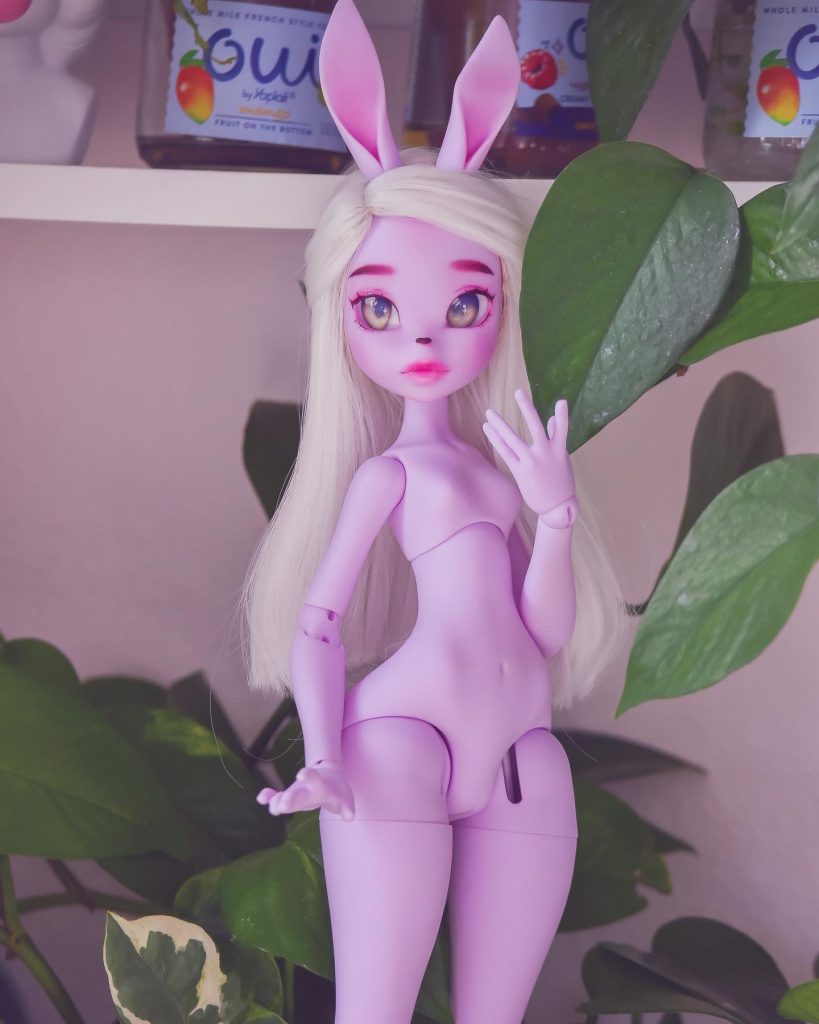 ♡ • ♡ • ♡ • ♡ • ♡ • ♡ • ♡ • ♡ • ♡ • ♡ • ♡ • ♡ • ♡ • ♡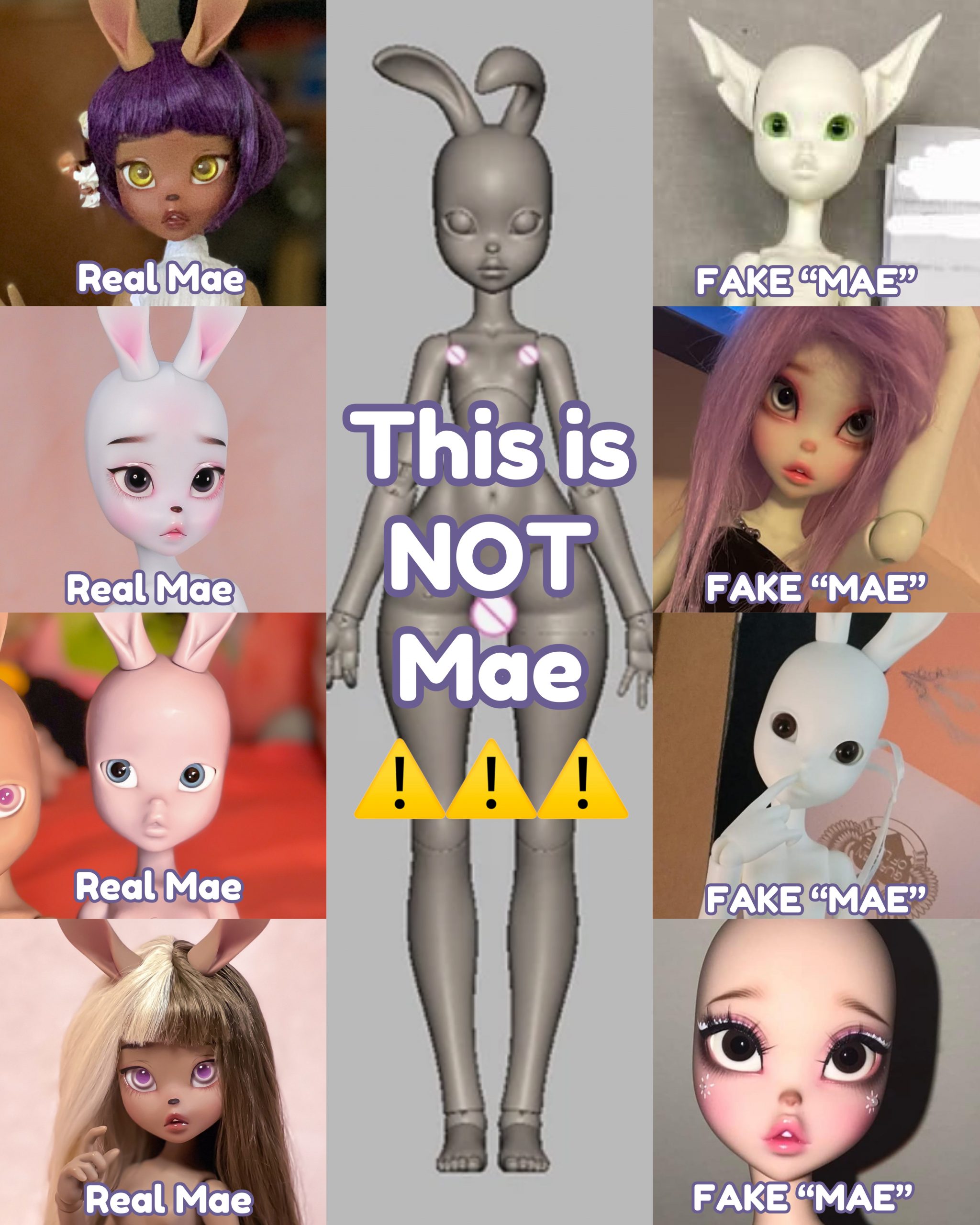 Due to recent events, please take caution where you purchase Mae as there is the possibility of encountering unauthorized sellers and/or counterfeits as she has been copied and being called by another name.
If you plan on buying Mae secondhand, the easiest way is to make sure she is legit is that all my dolls have my either my old logo or new logo on the doll. If the logo is missing, then be wary of this seller and please report them to me (NOTE: this is NOT a invitation for harassment or doxxing the individual, just quietly report them to me).
Other items that both Anie, Mae, and all my dolls will always come with is:
A certificate with handwritten details, an artist signature, wax seal with my old logo or new logo, as well as the name of the sculpt on the other side of the certificate
A unique ID number and order number that can be tracked back every preorder including the original owners
An official box with my old logo OR doll bags with my new logo on it
If at any point you need confirmation that your Mae you've purchased secondhand or a Mae being sold online is legitimate, you can contact me anytime to confirm this.
For owners of Mae, make sure to not lose your certificate, save order confirmation emails to ensure that you have a way to prove your Mae is legitimate in the event of selling secondhand, and do not share your ID numbers, but the order number is fine to share to also show proof of purchase and/or proof she was officially purchased.
And remember, my dolls are ONLY purchasable from me in my store and in person shows like Resin Rose BJD Expo, and no where else. If you see a Mae that looks like in the image above, being sold on a website other than my online store, or missing my logo, it is an illegal counterfeit that was never authorized to be created and is NOT Mae. In addition, anyone who purchases fake Mae will be permanently blacklisted from purchasing dolls from me and will be blocked regardless if they've purchased dolls from me prior or they've sold the fake Mae secondhand.

Here are a few tips and tricks on how to take care of your doll:
Make sure your hands are clean before playing with your doll. (It'll help preserve her in the long run)
Use Magic Eraser or a Melamine sponge to clean her skin and for general maintenance, especially if the clothes and/or wig she wears is prone to staining/dark colored, or had a busy day outside for pictures, but careful around the face up or body blushing as you may scrape that off!
To avoid any unsightly tan lines, make sure to keep your doll away from direct sunlight as it can discolor the resin.
The magnets in their ears of the bunny girls are a bit weak, so put the second pair of magnets she comes with under her wig where the ears are for a bit more security and not fall off as easy!
Danni and the Bunny Girls hands and feet magnets are not very strong, I recommend putting a small amount of eye putty to make the hands more secure to the wrists!
Are you planning on sharing posts of your doll on Instagram, Facebook, or Tumblr? Be sure to tag me! I would love to see how you customized them! And if you're a seamstress, wig maker, or a maker that makes items that fit my dolls, DM me on my Instagram with your shop or social media to be displayed here to let others know you can make clothing, wigs, etc for my dolls!
And if there are any issues, concerns, or general questions about your dolls, drop me a message and I'll answer as soon as I can!
Thanks again and have fun!